Our speaker at a special one-off event on Tuesday 31 October 2023 was author and student of US Politics, John Matlin. His talk dealt with the current state of politics in the US. He was also promoting his new novel "Injunction" which deals with a fictional fraud in a Lloyds insurance syndicate. He entertained us with some enticing and tasty exerts.
John took us through the recent issues with the Speaker of the House, and why, following September this year, the current Speaker had been obliged to stand down and why there had been so many difficulties in finding a replacement. The role of the Speaker of the House of Representatives is quite different from Speaker of the House of Commons! In the US the speaker sets the business of the House, approves the appointments to all the committees of the House, and is 3rd in line to the top job at the White House.
We then moved on to the complexity of the voting system in the US. Citizens do not vote for a President, they vote for members of an Electoral College. The role of the Electoral College in each state depends on state rather than federal legislation. There are differences! The appointment of the members of a state's Electoral College respects the popular vote, as collated by the constituencies. However, the boundaries of those constituencies can be hotly contested, with a final decision going to the Supreme Court of the US, state by state. So far, 5 Presidents have come to office with a minority of the people's votes, but with a majority in the US Electoral College. John also explained the question of disbarment from office caused by a breach of the 14th Amendment to the Constitution.
We then progressed to the current position of the 45th President, the nature of the charges he is facing, and an appraisal of the potential candidates who may be able to stand against him. The process of finding the nominated candidate for each party will reach completion next year. John provided an explanation of how the 'Caucus' process operates, and how it relates to 'Super Tuesday'.
John's talk concluded with an analysis of where constitutional power in the US resides today, and how that could alter depending on who is successful in the election of the 47th President in early November 2024.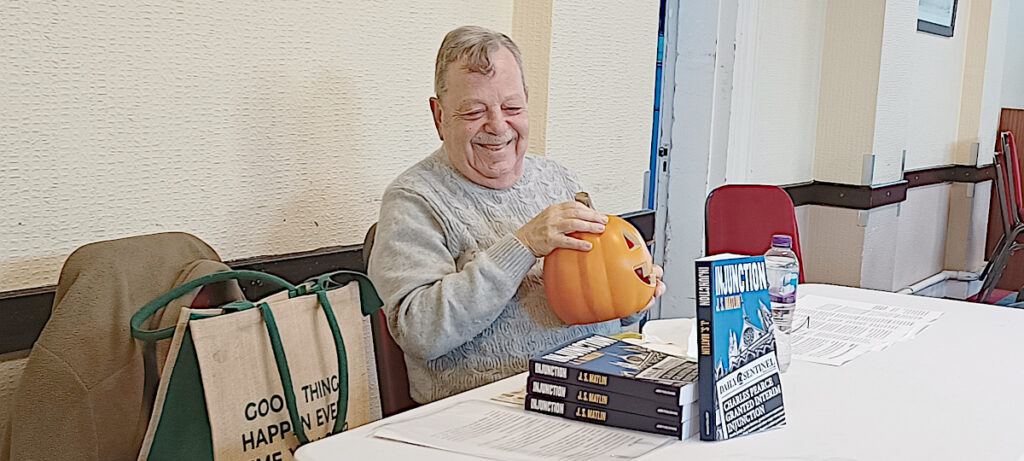 There were some moments of levity in this talk when John introduced us to his new Halloween Friend/Fiend carved from a Pumpkin. Throughout the talk, this was a clear and practical demonstration of John's mastery of this subject, and needless to say there were many questions from his audience!