Our course on British Art and what can be seen around London continued on Friday 03 November 2023 with the story of Kenwood House, its Art, Nobility and some Scandal! Kenwood House is familiar to many residents of North London, but the story of the house was not as familiar, until it was brilliant described by Jennifer.
Jennifer set out on her lecture using the newly sourced lectern generously funded by one of the members of our u3a. Kenwood was originally constructed in the 17th Century and known as Caen Wood House.
That building was demolished in 1694, and a new house erected on the same site shortly after for William Bridges. He sold the new house in 1704, and after being in the hands of several owners, it was purchased in 1754 by Lord Chief Justice William Murray, later to be the First Earl of Mansfield.
Various embellishments and alterations were made to the original design over the years including the library, the portico at the front, and the two wings supporting the portico, designed by Robert Adam. Lord Murray had no children, and the house passed to his nephew who remodelled the landscape and gardens. The family remained there until 1922 when it was sold to Edward Guinness, the First Earl of Iveagh.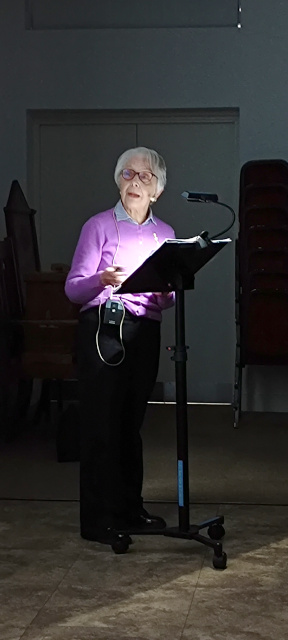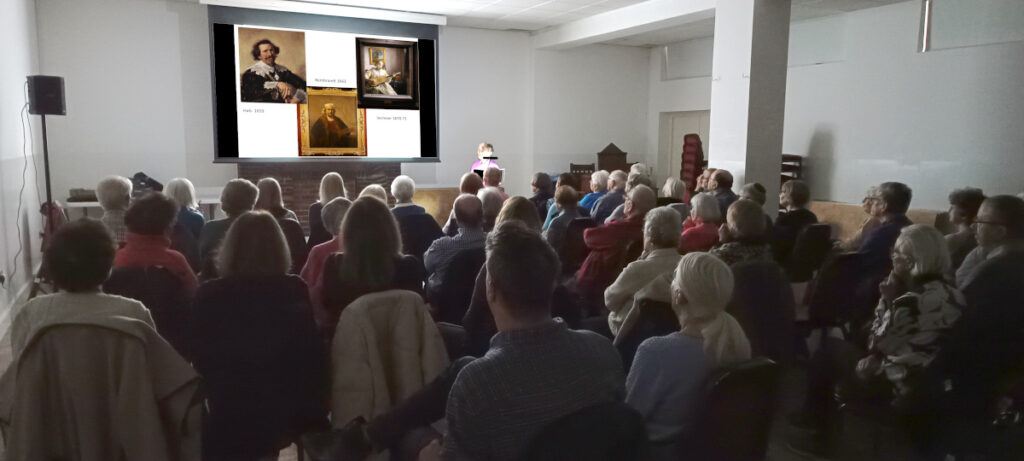 Lord Iveagh having never lived there, left the house and its substantial art collection, featuring works by Reynolds and Gainsborough as well as Dutch masters like Hals, Rembrandt and Vermeer, to the nation in 1927, on the proviso that no charge be made to enter the house and see the collection. Today, this is still known as The Iveagh Bequest. One of the artists whose works feature at Kenwood House is George Romney, an artist who painted Emma Hamilton more than 100 times!
The life of Emma Hamilton was intriguing given that she had started out as Amy Lyon, and via a large number of positions and placements had ended up as the mistress of Lord Nelson. She had danced in Dr Graham's Temple of Health and Dr Graham's Temple of Hymen, been in domestic service for the Linley family, worked at the Theatre Royal Drury Lane, been passed between several country gentlemen before being taken to Romney's studio in London where the 100 paintings started. Later, she was abandoned in Naples where she met and married Lord Hamilton, the British Ambassador to the Kingdom of Naples. It was in Naples that she first met Lord Nelson.
We started to close with a quick glimpse of the arrival of Scientific and Industrial Age, with paintings of Joseph Wright of Derby and the effect these subjects had had on later artists like JMW Turner. We finished with a review of black men and women in 18th Century paintings, and the effects of Slave Trade Act and the Slavery Abolition Act in which Lord Chief Justice William Murray, of Kenwood House, had made some key legal judgements.