This week's examination of the Golden Age of Dutch Art, with Jennifer, had us all intrigued as to what could be shown and what could not. Entitled "The Unruly House and the Tavern", we saw the works of Jan Steen (1626-1679), concentrating on behaviour in homes, in taverns and the behaviour of doctors in 17th Century Netherlands. The Dutch people have many proverbs, and several paintings made direct reference to these. With Jennifer's guidance, we could see the hidden messages in pictures of family life, hinted at by dogs, keys, braziers, playing cards, broken egg shells, oysters and more.
The surprising number of pigs chasing roses, keys on walls, and hanging baskets were all explained. Often Jan Steen himself appeared in the paintings, and we started to recognise him. There were also a number of monkeys, stopping clocks in his paintings. We learned about the proverb connecting owls and spectacles – the Dutch equivalent of taking a horse to water but not being able to make it drink.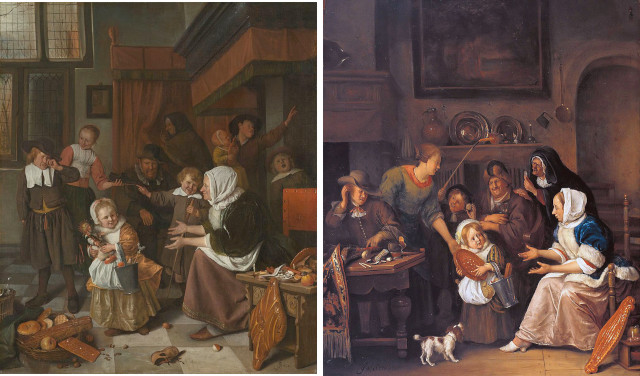 We were taken through a comparison of two paintings depicting the feast of St Nicholas, and the religious significance of the differences was exposed. Then the level of unruliness was increased with paintings of school rooms, and paintings of revelry at Easter time. Even toilet humour was present when the schoolmaster fell asleep whilst taking a class in an unruly school.
Jan Steen painted doctors visiting patients, and midwives attending births, but always with a slightly sceptical eye. Even dentists did not escape his critical gaze. The important symbols kept appearing in the paintings and told their own story. Jan Steen's works were compared to those of Gerrit Dou, Jacob Toorenvliet, Gottfried Schalken, Gerard von Honthorst, Jan Molenaer and Gabriel Metsu.
With her expertise in the field and her in-depth knowledge of the painters and their works, Jennifer once again held her audience in thrall, and the two hours passed in a trice! Next week will centre on portraits.