This week's talk by Jennifer on the Golden Age of Dutch Art saw the 12-week programme come to an end. The talk began with some more 'interiors' that were left over from the previous week, including an intriguing interior painted in 1988 by Paula Rego and entitled "The Family". The member introducing this painting told the story of her connection with Paula Rego's granddaughter, and then analysed the expressions on the faces of the four family members, and the significance of the illustrations in the background of the picture. The Rego family had had similar difficulties to those portrayed.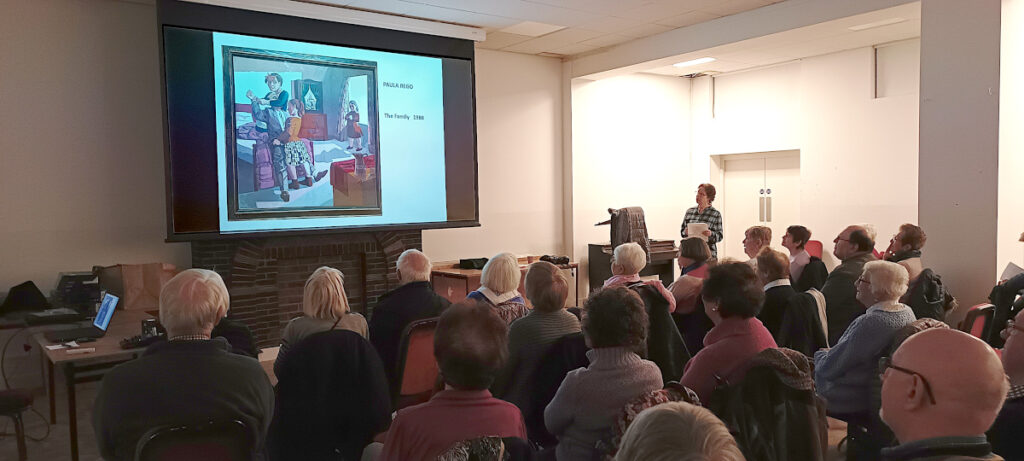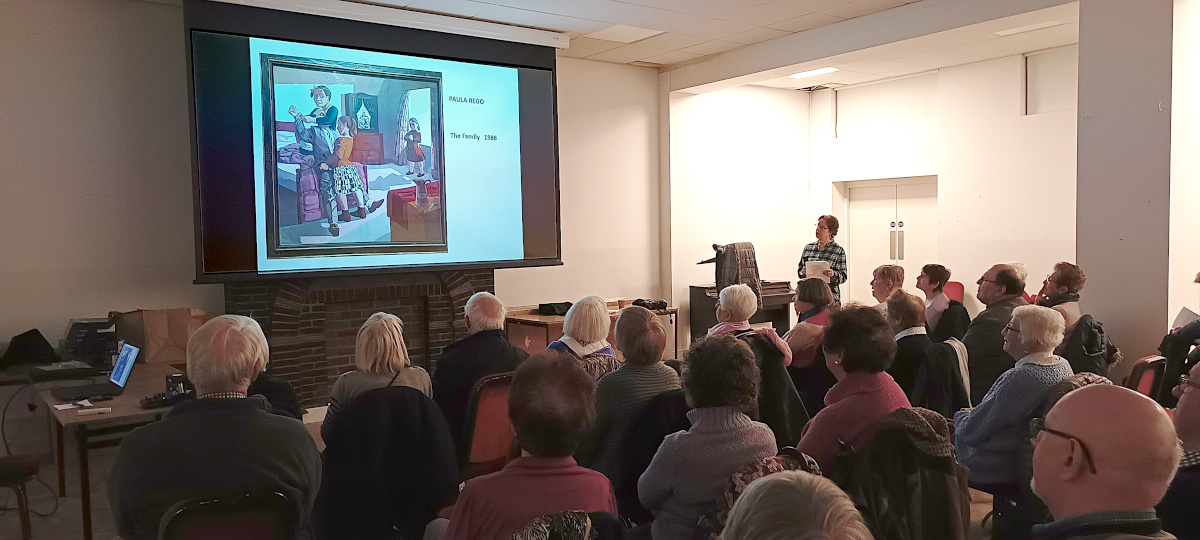 Then we had the last member offering two paintings of interiors by David Hockney, one from his time in Los Angeles, and the other from his time in Bridlington. At first glance, it was difficult to believe that both were from the same artist, but as our member led us through the two paintings, objects in the one painting could be found in the other. These similarities were not immediately obvious, but once they had been pointed out, the bond between the two became clear.
Jennifer then provided a list of dates over which paintings we had seen would be on public display in the London area in the coming months, highlighting the works of Vermeer, the two Van de Velde (father and son), and the forthcoming Vermeer Exhibition film at the Phoenix Cinema in East Finchley. There is also a film of a famous Vermeer forgery, to watch on various channels, entitled The Last Vermeer (2019) starring Guy Pearce, Claes Bang and Vicky Krieps, telling the story of artist Han van Meegeren.
Jennifer thanked all the contributors for their interesting "interior" paintings, and then quickly recapped the contents of the course from Landscapes, Townscapes, Women in the Home, Relationships, Music Lessons, Concerts, Drinking, Courting, Pearls and Mirrors, Religion and Myth, not forgetting the much worn yellow jacket with fur edging.

It was then time for a test to see how much we could remember of what we had been told. Jennifer set up two tests asking questions about the paintings in the course, and identifying fragments of them. There were prizes and two teams got their miniature Easter Eggs as a reward. This has been a most stimulating series of talks, delivered with immense skill and knowledge by a gifted communicator. We cannot wait for her to return with another programme in the Autumn of 2023.