This week's talk by Jennifer on the Golden Age of Dutch Art concentrated on the works of Rembrandt and Frans Hals. Rembrandt is accredited with produce more than 300 paintings in his life time from 1606 to 1669, but more than 40 of them are self portraits. In addition there are many etchings and drawings, and also during his life many prints were made.
We were told that Rembrandt never left Amsterdam during his working career, and with such prodigious output that was easy to understand. However, his personal life was filled with mystery. His wife Saskia produced three children that did not survive more than a couple of months. It was only their fourth child, Titus, that survived childhood, but even he predeceased his father. There were two significant housekeepers after Saskia died. One sued Rembrandt for breach of promise and claimed alimony from him. The second housekeeper bore a daughter, allegedly conceived with Rembrandt, but they never married.
Rembrandt largely specialised in portraiture, and is one of the earliest specialists in the Group Portrait, where a group of significant people want a painting to mark an event, or the work that they did together. There are many portraits with couples – a marriage portrait was also a popular piece of art. But Rembrandt is probably best remembered for his large groups – the most famous being The Night Watch (correctly titled The Company of Frans Banning Cocq and Willem van Ruytenburch). When asked who had seen the original in the Rijksmuseum, it emerged that nearly everyone present had. There were many questions about the golden girl carrying chickens. This was one of many large groups he painted, and Jennifer was able to draw comparisons in the compositions of the groups.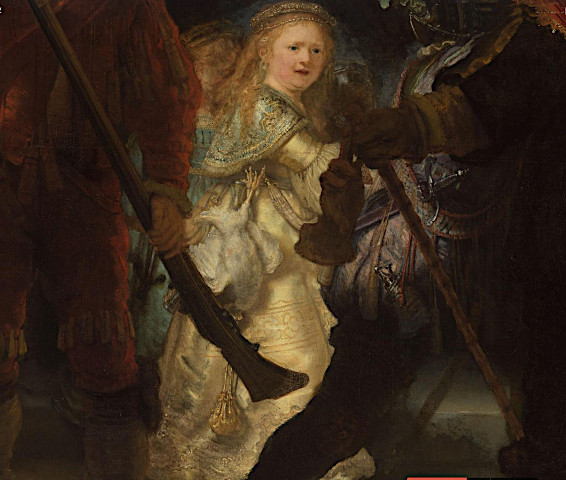 We then moved on to Frans Hals whose best known work is probably The Laughing Cavalier, even though the subject is not laughing and is not a cavalier! Hals (1582 – 1666) also painted many individuals and groups, but whilst Rembrandt only worked in Amsterdam, Hals only worked in Haarlem. Hals developed a more dynamic and impressionistic style that was much appreciated by artists in the 19th Century, many of whom copied his works.
Hals also produced many group portraits, and much time was spent analysing the similarities and the differences between the many group portraits. There must have been a catalogue of poses somewhere that both artists were using.
Once again, two hours sped by and we were amazed at the depth of Jennifer's knowledge of art and the artists. During the talk, the members of the u3a observed a minute's silence at 11:00am to mark the first anniversary of the Russian incursion into Ukraine.