Having covered Seascapes and Landscapes over the last couple of weeks, focus moved this week to the Townscape.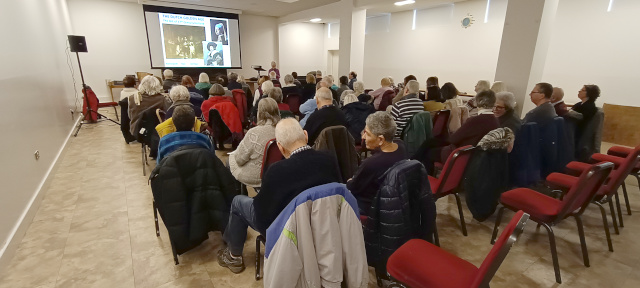 A packed audience heard our resident expert Jennifer talk about the works of Vermeer, De Witte, Berckheyde, Saenreden, Van der Heyden, Fabritius and Dou.
We learned that Vermeer has only 35 paintings to his name of which only two are outdoor scenes. That said, one could easily mistake them for photographs, so fine is the detail portrayed in them. Whilst the painting View of Delft is clearly a painting (and is mentioned in A la recherche de temps perdu), several thought that The Little Street could have been a photograph!
We were guided through the church interiors of De Witte, and we were introduced to the dogs in his paintings, even inside the churches. A comparison was drawn between the old church and the new church in Delft, including the misbehaviour of two boys and a dog!
We studied the detail in the paintings of Berckheyde, in particular those of the canals in Amsterdam, and the Market place there. We were puzzled by some of the fish on display on the market stalls in the paintings of De Witte. The Jan Steen painting of the Burgomaster of Delft with his daughter told an amazing story too.
All these pictures came to life during the talk, with photographs of actual locations being shown side by side to illuminate the comparisons with current day features.
Next week we have the interiors of homes, and as a link between town and home, Jennifer took us through the pictures of goldfinches, explaining their use and their symbolism.